What we do
Our Services
We at R Mahajan & Co. provide you with a gamut of services for each stage of your business life-cycle.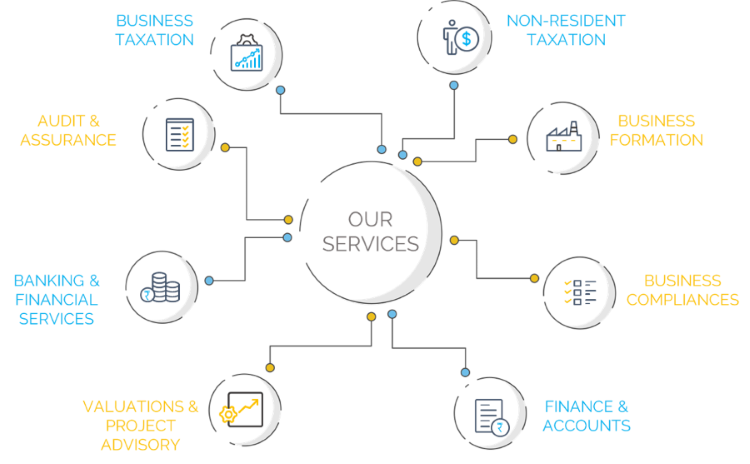 Audit & Assurance
Audit may be time consuming but is imperative to let you know whether the numbers produced and processes being followed in your business are correct or not. We provide following audit and assurance services:
Statutory Audits – Corporate and Non-Corporate
Internal Audit Services / Concurrent Audit Services
Management Audit
Operations and Efficiency Audit Services
Special Investigative Audit Services
Due Diligence Review
Costing and Accounting System Design and Review
Compilation of final accounts
Income Tax Audits
GST Audits
Certifications under taxation – Income tax and GST, FEMA, RBI, DGFT and other statutory requirements.
Form 15CB filings with the Income Tax Department
Business Taxation
We provide you all services related to Business Taxation:
Direct and Indirect Tax: Including – e-filing of Income Tax Returns, TDS Returns, TCS Returns, AIR Returns, Tax planning & Consultancy, Wealth Tax Returns, GST Migration etc.
Goods and Service Tax matters (GST) and Consultancy, including Registration, e-filing of Returns, Annual Tax Filing, Tax Audit Reports, Representation and Appellate matters. We are also channel partners of Alankit Limited (which is a GSP) for GST Returns.
Non-Resident Taxation
Non Residents are subject to special tax treatment under Indian Tax Laws. Non Residents are even eligible for lower TDS rate while selling their property in India. They need to apply in Form 13 under section 195 of the Income Tax Act, 1961 for the said purposes. Similarly, they may apply for lower withholding taxes on their capital gains and other incomes.

We help you navigate these complexities through our specialized NRI Taxation services, including:
Transfer Pricing Study and Due Diligence
Transfer Pricing Audits
Country by Country Reporting (CbCr)
Advisory on Multi Lateral Instruments (MLIs) and Cross Border Transactions
Advisory on TDS/ Withholding taxes and tax planning.
Form 15CB Certifications and advisory on Form 15CA filings
Business Formation
R. Mahajan & Co. provides you all the help you require when forming a new business, or incorporating a company in India. Our services include:
Licenses and Registration
PAN/ TAN and Income Tax Registration
GST Registrations
IEC Registration
PF/ESI Registration
Trademarks/ Patents
Business Compliances
We are your go-to partner when it comes to regular business compliance activities. You can rely on us to help you out with:
Company Law Matters – e-filing of RoC Returns, Consultancy, Company Incorporation, Due Diligence Report and Secretarial Work
Statutory Certifications required for various compliance requirements. It includes certifications related to bank borrowings, export-import compliance, FEMA Compliance
All and any kind of business and professional compliances are suitably handled at our firm.
Finance & Accounts
Regular finance and accounting is a critical function, where you need a trusted advisor at all times. Our services here include:
Personal Taxation and Investment Planning: Advising Individuals, HUFs etc. on tax compliance as well as Investment Planning for optimum gains.
Accounting, Book Keeping and Ind-AS/IFRS Consultancy – Undertaking Book-Keeping at small to medium scale with respect to cost optimization benefits for MSME Organizations and also helping them in both direct and indirect tax compliances. IFRS Consultancy and Training Assignments are undertaken for smooth transition from existing Accounting Standards to Internationally Accepted IFRS and converged Indian Accounting Standards.
Valuations & Project Advisory
Our specialized vertical of advisory & valuation services provides you with services including:
Valuation of Shares, Bonds, Debentures, Options and other Financial Instruments in house as well as through Merchant / Investment Banks operating in India including DCF (Discounted Cash Flow) Analysis and other valuation methodologies for listed and un-listed companies based upon Income, Market and Asset Approaches. Also undertaking small research projects in the matter of Financial Risk Management.
Corporate Advisory with respect to management consultancy, Valuation, M&A, Tax Planning, Tax Audits and Assessments, Representation before Income Tax Department in scrutiny assessments, search and seizure cases, Appellate proceedings before CIT (Appeals) & Income Tax Appellate Tribunal.
Project Advisory- It includes preparation of CMA data, projections, Detailed Project Reports etc. in consultation with Banks and NBFCs and related periodic services like Financial Follow up Reports, Quarterly Information Reports, Drawing Power Statements etc.
Loan/Syndication/Project Finance – Preparing Project Reports and Information Memorandums for various companies who need to raise funds from various sources for business purposes.
M&A and Due Diligence – Undertaking the due diligence for Mergers & Amalgamations and Acquisitions, valuing the company, advising the acquiring and target companies, preparing the shareholder and debenture subscription agreements.
Banking & Financial Services (BFSI)
Our separate services for BFSI help you get customized services for this segment, including:
Statutory Bank Branch Audits
Concurrent Audits
IBA Approved Agency for Special Monitoring Assignments
NPA Recovery and Resolutions
Insolvency Professional Consultancy
Investment Banking and Credit Appraisal Consultancy – Credit Analysis, Assistance in Credit Rating and in Annual Credit Appraisals for Banks and NBFCs, Loan Advisory, Lending Documentation Advisory, Investment Banking services on customized basis.
Credit Audits and Stock Audits – We are empanelled with Banks to undertake the Credit Audit as well as Stock and Trade Receivable Audit of Selected customers and do a fair assessment of credit risk involved therein.
Physical verification and valuation of stocks at plants, depots, mines, dock and other locations